CSIRO Senior Executive salaries surge by ten percent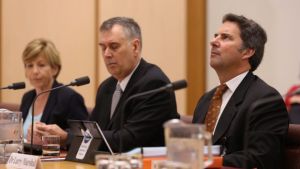 CSIRO has reported a ten per cent increase in the amount of money spent on Senior Executives salaries in the last twelve months.
Analysis of the independent financial statements in CSIRO's latest annual report reveals that salaries for senior management surged by ten percent over the 2015-16 Financial Year to $5.568 million.
CSIRO Staff Association Secretary Sam Popovski described the news as concerning.
Executive pay jumps  
"The financial statements – approved by the Australian National Audit Office – paint a confusing picture.
"While the ranks of Senior Management Personnel fell from 22 to 20 positions over the past twelve months – total expenditure on salaries increased from $5.023 to $5.568 million over the same period.
"Executive bonuses and allowances appear to have declined at the same time. What's not clear is whether the savings on bonuses have been transferred to fund the salary increases.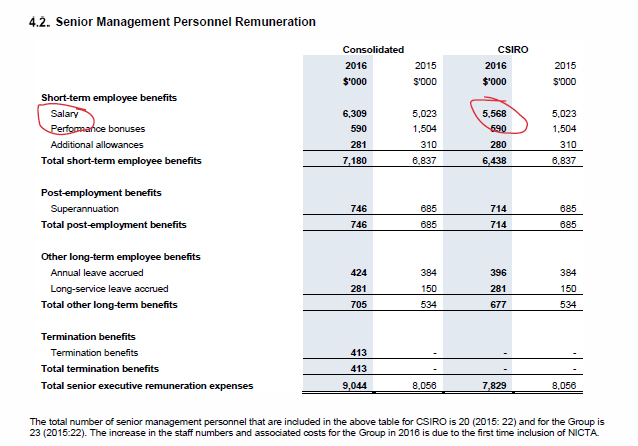 The report notes that the incorporation of NICTA into the CSIRO resulted in an rise in senior executives to 23 across the group – which includes Data61 – and a subsequent increase in salaries from $5.023 to $6.309 million as of 30 June 2016.
"It's still a very murky picture that demands a fair bit of sunshine and transparency. The CSIRO Executive Team certainly has some explaining to do," Mr Popovski said.
Chief Executive Dr Larry Marshall and his senior Executive Team have been widely criticised for continuing controversial cuts to jobs, research and funding; ultimately resulting in the loss of more than 1 in 5 CSIRO employees over the past three years.
Widening rift within CSIRO 
Mr Popovski said it would be "deeply disturbing" if it transpired that Senior Executives salaries had increased while the rest of the organsiation was suffering an effective pay freeze.
"Apart from executive managers, the CSIRO workforce has not received a general pay increase since July 2013," Mr Popovski said.
A recent staff CSIRO survey revealed a mere 14 per cent of employees reporting that senior management where doing a good job. Across the organisation 51 per cent thought senior leaders where performing poorly. Meanwhile a staggering 97 per cent of senior executives felt that the organisation would change for the better over the next year.
Bargaining breakdown
A recent management-sponsored enterprise agreement offer – that sought to trade off rights and working conditions in return for a yearly increase equivalent to 1 per cent – was defeated by a margin of more than 70 per cent of CSIRO staff who voted in the ballot.
"CSIRO staff have been trying to negotiate – in good faith – an enterprise agreement since December 2013. Nearly three years later, the workforce had its one and only chance to vote on an offer from senior management – and more than 70 per cent of the three quarters of staff that voted rejected the deal."
"Senior Executives have failed to stand up for CSIRO staff, the independence of the organisation and reject the Coalition Government's bargaining policy. This is simply unacceptable."
Mr Popovski called on the Dr Mashall, the Board and portfolio Minister Greg Hunt to abandon the bargaining framework, describing the application of the policy as the major obstacle to rebuilding morale and trust across CSIRO.
Management response 
In a statement, CSIRO management responded by stating: "Senior executives did not receive a general increase in their total remuneration in 15/16 and CSIRO total senior executive remuneration expenses were less in 2015/16 when compared to 2014/15."
Useful resources