Special report: CSIRO staff survey SHOCKER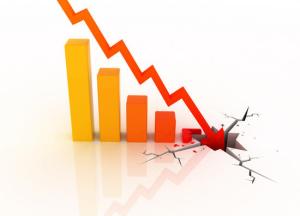 The successful implementation of Strategy 2020 has suffered a serious blow with the results of an all staff survey displaying a picture of a divided organisation beset by low morale and a massive gulf between the views of the CSIRO Executive and the wider workforce.
The results come as senior management continue to push controversial plans to remove employee rights and protections from CSIRO staff, following deep cuts to jobs, research and science funding.
Set in the context of "a cultural change journey to support Strategy 2020," the survey report – written by external consultants Willis Towers Watson – elicited an immediate apology from CSIRO Chief Executive Larry Marshall.
"Drawing on external norms to benchmark performance and effectively gauge sentiment and progress," the survey used global and international measures for comparison. These include a Global Transitional Norm (GTN), an Australian National Norm (ANN) and a Global Research and Development Norm (GR&D). The survey also charts results against the previous all staff survey in 2012 and the smaller Pulse survey in 2014.
Coming off a low, low base
The 2014 Pulse survey – following the Coalition's $115 million funding cut that resulted in the loss of nearly 900 jobs – demonstrated a dramatic fall in both staff morale and confidence in senior CSIRO management. Those results underscored the size and gravity of the problem that then incoming Chief Executive Dr Larry Marshall faced before taking the reins in January 2015; a warning the Staff Association made publically at the time.
Eighteen months on and very little has changed. The vast majority of indicators are far worse than the last all staff survey in 2012. As far as any improvement on CSIRO's annus horribilis of 2014, it's a dead cat bounce for the new Chief Executive and his leadership team, with minimal, marginal movement at best. Best not to look at the national or global benchmark comparisons at all.
Perhaps most concerning for the ex-Silicon Valley entrepreneur, when it comes to "management of organisational change (or) how well are we bringing people along on the journey" to Strategy 2020; Dr Marshall and Executive team appear almost to be operating in an alternative reality when compared to the views of CSIRO staff.
Strategy 2020 takes a hammering
The much vaunted Strategy 2020 – troubled by an implementation process most recently savaged by an Ernst and Young report – faces a tough task of engaging the majority of staff. In no uncertain terms, Dr Marshall has a mountain to climb.
Figure 1: Breakdown by support for Strategy 2020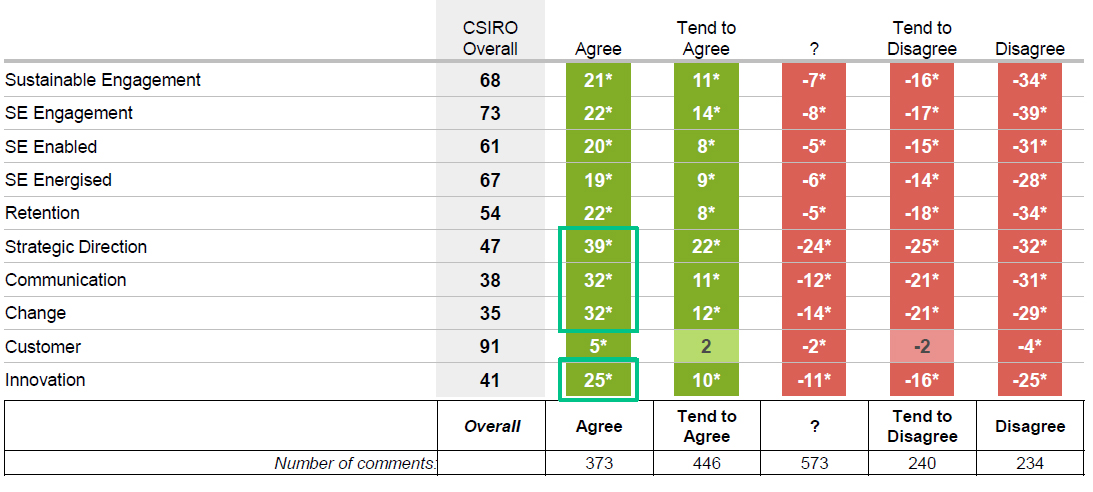 Only 37 percent of respondents thought CSIRO was capable of achieving the strategy. More than a third of staff felt the organisation was not capable reaching the goal and 28 per cent remained undecided.
Confidence in senior management crumbles
Overall confidence in senior CSIRO leaders may have reached its nadir, with only 14 per cent of staff reporting that senior management where doing a good job. Across the organisation 51 per cent thought senior leaders where performing poorly.
Figure 2: Managing change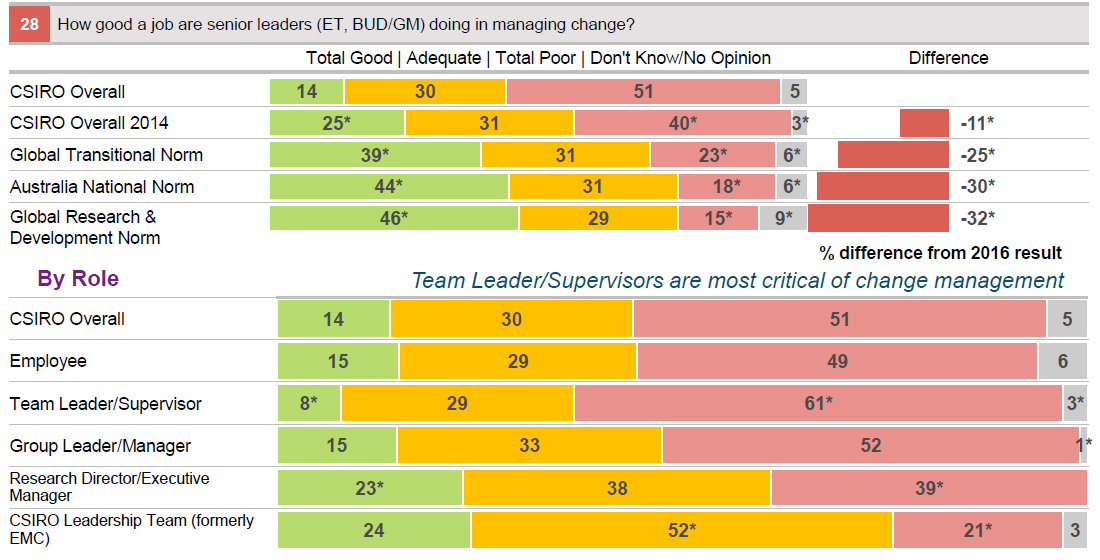 Team Leaders and Supervisors were particularly critical, with 61 per cent of line managers expressing their dissatisfaction . Possibly illustrating the giddy effects of the rarefied atmosphere up there, 76 per cent of the CSIRO Leadership team rated their performance as good or adequate.
Chasm widens between Executive and staff
Perhaps the most damning response relates to optimism within the workforce. When asked regarding the organisation's prospects over the next twelve months, less than a quarter of staff (21 per cent) felt CSIRO would change for the better. Meanwhile 66 per cent of staff predicted there would be no improvement or that things would get worse.
Figure 3: Change and optimism for the future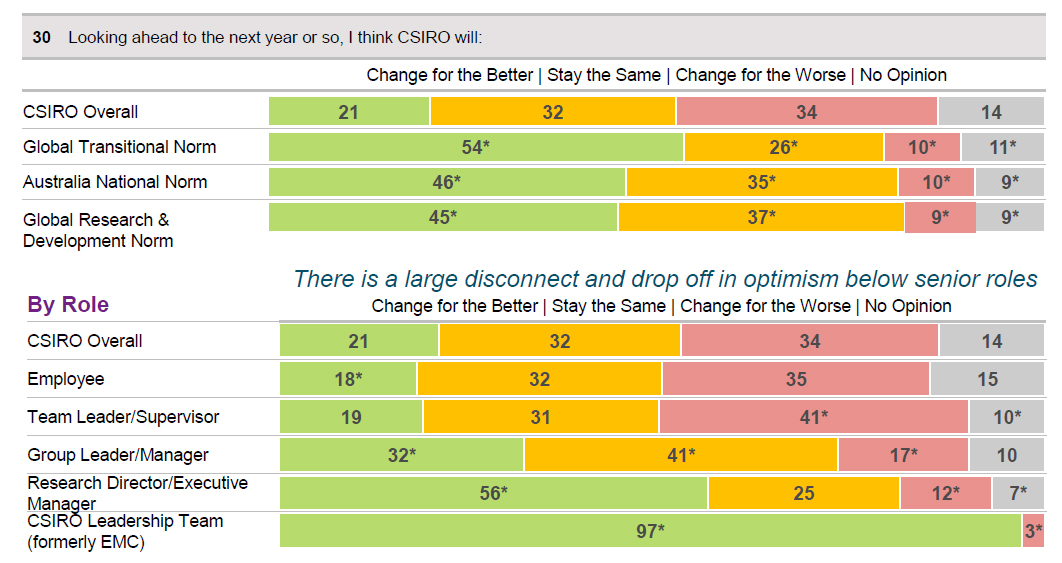 However the contrast with the views of the Leadership Team could not be starker. A staggering 97 per cent of senior executives felt that the organisation would change for the better over the next year.
Communication breakdown
The gulf might not be so great if senior leadership spent more time genuinely talking and listening to staff. 65 per cent of respondents did not think CSIRO did an 'excellent' job of keeping staff informed. Another 60 per cent felt that the effort to capture the opinions and thinking of staff was inadequate. Probably most concerning is that more than half (52 per cent) did not agree that they felt safe to speak up in CSIRO.
Figure 4: Communication 

Unsurprisingly the harshest verdict was reserved for senior leaders. An incredible 72 per cent of staff did not agree that senior staff effectively communicated the reasons for important business decisions. Ouch.
Staff commitment to CSIRO remains resilient
Despite all the gloom, the commitment of staff to CSIRO and the important role the organisation plays remains strong. Staff continue to believe in CSIRO, support the organisation and are proud to be a part of it.
Figure 5: Staff engagement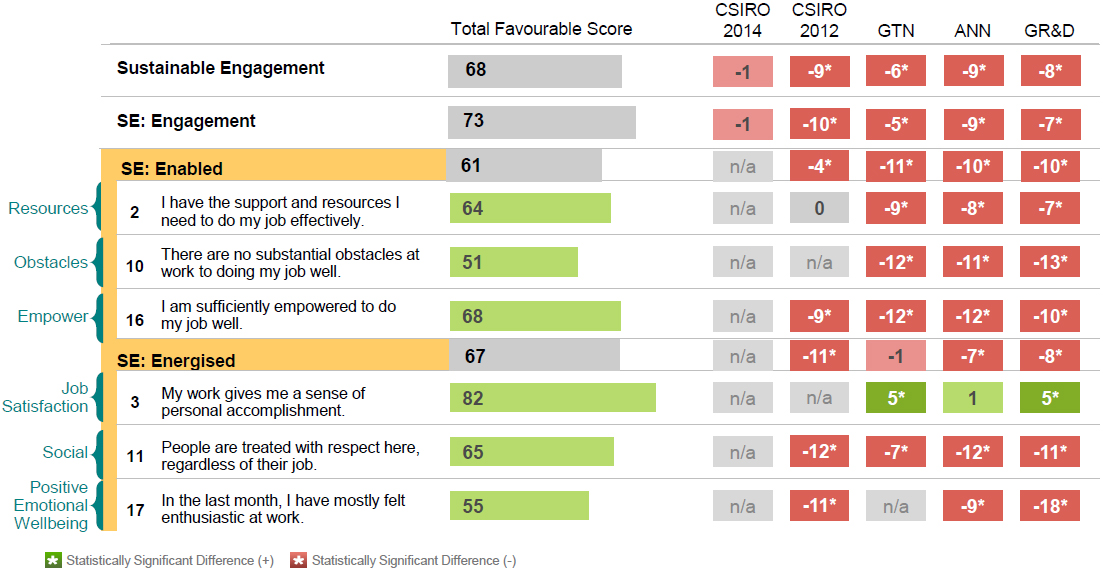 However it's worth noting that these responses – historically robust and reflective of the unique dedication of CSIRO staff – have taken a statistically significant tumble from 2012 levels.
Where to from here?
Following the all staff webinar, Business Units and Enterprise Support Services leadership teams will meet throughout September and October to discuss the results. The larger CSIRO Leadership group will then discuss a 'collective response plan'.
Looking further ahead, the Organisational Development and Change team will survey staff again in early 2017 'to measure progress and explore other organisational performance areas'.
So what now for Dr Marshall? Those bizarre scenes of the Chief Executive in the creams, bat held aloft in triumph at the Sydney Cricket Ground seem a lifetime ago. Marshall's innings may been extended until the end of the decade – and there's no ruling out the prospect of a Captain's knock – but what happens if no one else on the team wants to dig in?
Trust deficit
Through this year's restructure and its implementation, CSIRO's reputation has been damaged and staff goodwill has hit rock bottom. Next on the agenda will be the enterprise agreement and employee conditions and rights, with senior management intent on stripping something in the order of 75 per cent of legal protections for employees. All this with trust and confidence between the Executive and staff at its lowest ebb.
Solutions can be found to rebuild staff morale. CSIRO's proposal for a new Enterprise Agreement is not one of them.
The warning signs for the organisation were there all along. Almost two years ago when Dr Marshall's appointment was first announced, Staff Association Secretary Sam Popovski offered the then incoming Chief Executive a word of advice.
"CSIRO needs strong leadership as it struggles to cope with heavy cuts to funding, jobs and research… an immediate challenge for Dr Marshall will be to repair morale and meaningfully involve staff and their representatives in the strategic planning for CSIRO's future," Mr Popovski said.
If these survey results say anything; for Dr Marshall that challenge has become a whole lot harder.
Related content