Staff Association questions CSIRO staffing cap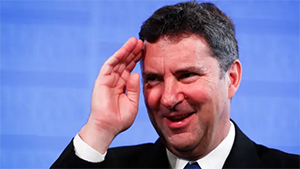 The Staff Association has sought an explanation for the continued, rigid application of a staffing cap at CSIRO despite several instances across the organisation where increased external earnings and workloads require additional resources.
Following discussion at last December's Consultative Council meeting, Staff Association Secretary Sam Popovski wrote to CSIRO Chief Executive Larry Marshall seeking more information on employment restrictions.
"The Staff Association's view is that there is no way that CSIRO should be subject to staffing caps or restrictions by Government or Government departments," Mr Popovski said.
The case for CSIRO jobs
"CSIRO's enabling legislation – the Science and Industry Research Act – is clear. The Chief Executive is solely empowered to employ staff. As the Federal Government is so fond of stating when jobs are being cut; staffing decisions at CSIRO are for CSIRO alone."
"Additionally, approximately one-third of CSIRO's income derives from non-appropriation sources. If CSIRO is successful in attracting more non-appropriation income, including from industry, then it clearly needs to be able to use these funds to employ staff," Mr Popovski said.
"The Staff Association is extremely worried about the consequences of the staffing cap. In science and innovation, you cannot and should not hire contractors or consultants to do the complex and innovative work that is the hallmark of the organisation."
Quality concerns
"CSIRO's partners expect us to employ the best and brightest, to value and treat staff well and to foster sustained, trustworthy relationships," Mr Popovski said.
"Put more crudely, short-termism does not cut it in the business we're in. We'll fail quickly if we attempt to outsource the work that we do."
"The Staff Association has already received reports of researchers turning down contracts with industry and university partners because of the staffing cap. CSIRO is essentially rejecting new business precisely because it can't employ the staff it needs (because of the staffing cap) to fulfil the contracts and emerging work CSIRO is seeking and being asked to do."
Marshall responds
Dr Marshall admitted that the restrictions – via the imposition of Average Staffing Levels (ASL) at the portfolio level – were in place at CSIRO.
"ASL is managed at the Department Portfolio level and I am working with the Department (of Industry and Science) to make sure we continue to deliver on our commitments and strategy. Please be assured that we are continuing to plan and deliver our work and currently 300+ recruitments underway across the organisation. Business Units have been encouraged to continue to work with the partners on new and current activities.
"ASL is managed at the Department portfolio level. Within CSIRO ASL is managed at the whole of organisation level. However, we have a notional Business Unit distribution to assist in workforce planning and labour budget management.
"We will provide this information in early February to accommodate the December/January staffing movements," Dr Marshall said.
Scrap the cap    
The CPSU campaign to lift ASL restrictions – or Scrap the Cap – secured a major breakthrough last August with the Shadow Minister for Finance Jim Chalmers announcing policies to rebuild jobs across the Federal public sector.
"A Shorten Labor Government will abolish the Liberals' arbitrary Average Staffing Level cap, strengthening capacity and capability within the Australian Public Service."
"The ASL cap has become counterproductive, leading to a hollowing out of the public service and sparking a blowout in spending on contractors and consultants. By abolishing the cap, agencies will be allowed to set their staffing levels based on operational requirements," Dr Chalmers said.
"It's enormously pleasing to see that Labor will be scrapping this policy… this ASL cap hurts workers, essential services and all Australians who rely on those services," CPSU National Secretary Nadine Flood said.
Related content