Staffing cap survey to measure CSIRO science, jobs impact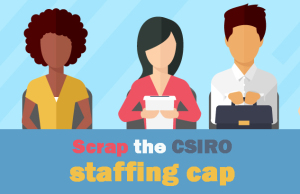 Despite reassurances from senior management, the intensified application of the Government's public sector staffing cap continues to generate concerns about jobs and CSIRO science.
The Staff Association has launched a confidential survey calling for examples of employment pressure from CSIRO workplaces across the country; for use in the union's campaign to increase public awareness and ultimately scrap the cap.
"Staff Association representatives have been sounding the warning on the impact of the staffing cap at CSIRO since late last year," CSIRO Staff Association Secretary Sam Popovski said.
Confidential survey
"We're asking staff to contact the Staff Association on a confidential basis with information on the impact of the staffing cap on CSIRO science and research.
"These examples will assist the Staff Association in making the case to the Executive Team, Federal Government and the Australian community to scrap the cap and protect CSIRO jobs," Mr Popovski said.
Have your say
The online survey activity is complemented by membership meetings in CSIRO workplaces. For more information, contact your Staff Association organiser or local delegate.
Display of complacency
In the meantime, Mr Popovski called on Chief Executive Larry Marshall to personally take control of the issue and take a stand for CSIRO jobs.
"There seems to be a lack of commitment at the highest levels of the organisation when it comes to protecting CSIRO jobs and delivering on the work we need to do.
"From the perspective of most CSIRO staff, it's not clear what actions Dr Marshall has taken on behalf of the organisation to push back against the staffing cap.
"Staff morale and confidence levels – only recently stabilised from the damage caused by job cuts in the years since 2014 – could again be threatened if this complacency continues," Mr Popovski said.
Related content