Change the rules and build a better CSIRO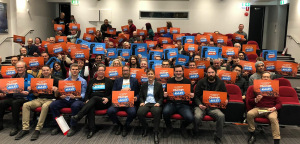 Australia's top union activist met with CSIRO staff recently and delivered a speech that reflected on CSIRO cuts, the enterprise bargaining system and the growing need to change workplace laws.
It was standing room only at Clayton's Ian Wark theatre to hear Sally McManus – Secretary of the Australian Council of Trade Unions (ACTU) – speak with hundreds of CSIRO staff from dozens of workplaces around the country tuning in remotely.
Catch up
Watch a video of Sally McManus's address to CSIRO staff here or below.
Ms McManus said that CSIRO staff deserve better than the last round of enterprise agreement negotiations and spoke about how CSIRO staff can secure:
the right to genuine bargaining
indefinite employment
fair pay rises that attract and retain staff
a CSIRO where public good comes first
What's next?
Staff Association members are building the 'Change the Rules' campaign in workplaces and within their communities across the country. We are calling for members to volunteer and be part of the campaign.
How can I get involved
If you're interested in getting involved in local workplace activities – such as the Sally McManus event – or more broadly, local community events, click here and we'll give you a call about upcoming activities in your area.